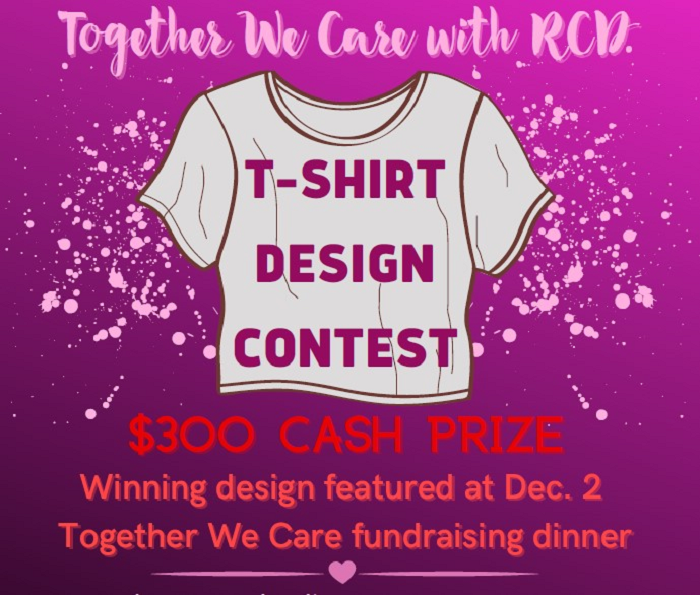 RCD's 2022 T-Shirt Design Contest
Enter RCD's 2022 T-Shirt Design Contest for a chance to win a $300 cash prize and to have your artwork printed on RCD fundraising t-shirts featured at the "Together We Care" Fundraising Dinner on December 2, 2022! This is an excellent opportunity to contribute to RCD's cause, as the t-shirt with the winning design will be used to raise money to provide services for people with disabilities.

Contest Rules & Guidelines:
Submissions should incorporate the contest theme of "Together We Care with RCD" into the design.
Only one submission is allowed per person.
Designs must be completely original work and may not contain any copyrighted materials.
Artwork must be 8.5" x 11" (can be either portrait or landscape).
A maximum of 3 colours can be used in the design (including black and white). Transparency and opacity cannot be accommodated.
Participants can recommend a colour of t-shirt for the design to be printed on, although RCD reserves the right to make the final decision.
Designs must be submitted in Vector format, PDF, .ai or .eps format.
Submit through RCD's website.

Contest Timeline:
July 15, 2022: Contest begins
September 16 at 4:30pm: Submission deadline
September 19 - 25, 2022: 3 finalists chosen by RCD Judging Panel
September 26 - October 7, 2022: Public voting on winner
October 14, 2022: Winner is announced
December 2, 2022: T-shirt featuring winning design presented at RCD's Together We Care fundraising dinner

Submission Agreement:
By submitting, designs become the property of RCD.
RCD reserves the right to alter design if deemed necessary for printing purposes.
The contest winner will not profit off the sales of the t-shirt from any of the RCD's fundraising initiatives.

For enquiry, email: Ella Huang at ella@rcdrichmond.org or call (604) 232-2404.
Submit your artwork to enter contest below: