Britannia Heritage Shipyard
5180 Westwater Drive, Richmond, BC V7E 6P3
Phone 604 718 8050
Fax 604 718 8040
At a glance...
Accessible Parking
Accessible Washrooms

Spacious Stalls, Grab Bars, Raised Toilet Seats
Barrier Free Accessories
3" Lip at Washroom Entrance

Barrier Free Walkways
Wheel Chair Access to All Public Buildings
Larger Print Signage
Our take...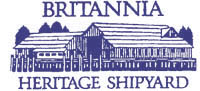 Britannia Heritage Shipyard was built as a salmon processing plant in 1889 during the West Coast salmon boom. Years later, it became a shipyard to help maintain the thriving coastal salmon fleet. Today there are ten remaining buildings on the 3.3hectare land site. Four of the ten buildings have been restored and are open to the public. Each one is wheel chair accessible. Parking is found where Railway Avenue and Westwater Drive meet. Sizeable handicap parking spots are available within close proximity to the dyke trail and heritage buildings.
Among the heritage buildings are the historic Murakami House and Visitors Centre. Here you will be able to learn about one of Stevston's oldest families and what life was like for a Japanese boat-building family in the early 20th century. You will also find wheelchair accessible washrooms here. The washroom facilities are spacious and have large stalls with raised toilet seats and grab bars. A barrier free sink with levered handles and lowered soap and hand drying accessories contribute to the washroom's accessibility. Gravel and asphalt pathways lead from building to building. They are generally barrier free, but some persons in chairs may be more comfortable bringing a guest along to help push. Signage is written in larger font with strong colour contrast and clearly marked all along the dyke and trails. The original cannery building - turned shipyard - is wheel chair accessible. Traveling through the large building, constructed from old growth cedar planks, is like traveling back in time.
Britannia Heritage Shipyard is located on the south arm of the Fraser River along Steveston Channel. It is an ideal place to visit to learn about British Columbia's fishing history and appeals to adults and children alike. The facilities are very wheelchair accessible and the site is just a short walk or wheel away from vibrant Steveston Village. If you would like to learn more about Britannia Heritage Shipyard call (604) 718-8050 or email
britannia@richmond.ca
or visit
www.richmond.ca
and look for Britannia Heritage Shipyard under the Culture & Heritage link.