Gateway Theatre
6500 Gilbert Road, Richmond, B.C. V7C 3V4
Administration Phone 604 270 6500
Fax 604 247 4995
Box Office phone 604 270 1812 for tickets and information
We found these features accessible:
Parking

Two marked stalls near entrance
Three more marked stalls in south parking lot

Sidewalks

Sidewalks have dropped curbs (curb cuts) providing access to parking lot

Entrance

Several swinging glass doors to lobby; some double doors

Lobby
Elevator
Public Washrooms

Accessible washroom on entry level and on second level

Concession
Main Theatre

Six to eight spaces for wheelchairs

Studio B

Multiple spaces for wheelchairs on floor level
Our take...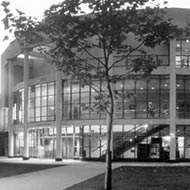 Gateway theatre productions are scheduled throughout the year using the main theatre, and a second smaller studio. Many outside groups also stage their productions at the Gateway.
Patrons should inform the box office of any special needs, (wheelchair seating, and headsets are available on request). The staff is glad to help where possible, or answer any questions you may have. The Gateway Theatre is located on a major transit route, only minutes from the center of Richmond.
Go to the Gateway Theatre website...