Fitness Unlimited Athletic Club
#150 2251 No. 5 Road, Richmond, BC V6X 2S9
Phone 604 279 9220
Fax 604 279 9577
At a glance...
Accessible Parking

3 spaces within close proximity to front entrance

Wheelchair Lift

Allows access to changing rooms and washrooms

Changing Rooms

23" Changing Benches
Lowered Lockers
Roll-In Shower (No Bench or Commode Chair)

Washrooms

Raised Toilet Seats & Grab Bars
Barrier Free Washroom Accessories

Gym Access

Access to most areas of gym
Access to Basketball & Squash Courts
Limited Access to Tanning Beds

Ramps & Pathways

Gradual Ramp outside leading to front entrance
Gradual Ramp inside with hand railing
Pathways are barrier free with smooth surfaces
Our take...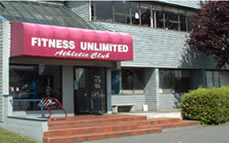 Fitness Unlimited Athletic Club is the ideal place for persons with disabilities to work out. Located on No. 5 Road in north Richmond, Fitness Unlimited is an enormous facility with a plethora of equipment and available exercise activities. Handicap parking can be found directly in front of the building. A gradual ramp leads from the parking lot to the front entrance. The door does not have a power but offers little resistance. The lobby is spacious and has walls and floors with strong colour contrast. Signage is in larger font with strong colour contrast.
A wide hallways leads from the lobby through to the exercise area. Tanning rooms can be found along the way, which provide wheelchair access as doors are wide and beds are approximately 18". A gradual ramp with a rail to grip leads down to the gym and workout area. There is plenty of space to work out and the entire facility is air-conditioned. Fitness Unlimited offers the latest in weight training and exercise equipment. It also has first class racquetball, squash and basketball courts. Washrooms and change rooms are upstairs. A lift provides wheelchair access to these accessible facilities. Washrooms have handicap stalls with raised toilet seats and grab bars. Sinks are roll under and have levered handles. Soap and towel dispensers are reachable by chair. Change rooms are equipped with 21" changing benches and lowered lockers and a spacious roll-in shower.
Fitness Unlimited Athletic Club is a family owned company that has been providing excellent service to its members for over 25 years. They offer a variety of programs and training resources and work hard to meet the diverse needs of each of their members. To learn more about Fitness Unlimited visit theirwebsite or call (604) 279-9220.