Mayfair Lakes Golf and Country Club
5460 No.7 Road, Richmond, BC V6V 1R7
Phone 604 276 0505
Fax 604 276 0599
At a glance...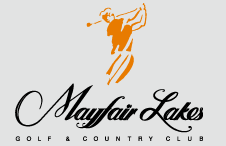 Accessible Parking

2 Spaces within close proximity to front entrance

Power Operated Front Entrance
Accessible Dining

25" Tables
Access to Patio
Closed Captioning on Large Screen TV

Accessible Showers

Roll-In Shower (detachable showerhead, shower bench)
23" Changing Tables
Lower lockers

Accessible Washrooms

Spacious Stalls, Raised Toilet Seats with Grab Bars
Barrier Free Accessories

Adaptive Golfing Welcome
Banquet Hall for Rent
Barrier Free, Smooth Walkways
Our take...
Breathtaking Mayfair Lakes Golf and Country Club is a premier golf course located on No. 7 Road in east Richmond. Follow the long, winding driveway as it curves its way towards the clubhouse and parking lot. Handicap parking spots are clearly marked and provide ample room for persons to get themselves and their wheelchairs out of the vehicle. Parking is located within close proximity to the automatic sliding glass doors at the front entrance. The main lobby is spacious and has strong colour contrast between the floors and walls. There is a pro shop, two lounges (one members only and the other open to the public), a banquet hall, fully accessible washrooms, and accessible changing rooms with adapted showers.
The member's lounge offers a diverse menu in a cool air-conditioned room with a beautiful view of the golf course and the sprawling mountains to the north. Guests can watch sports on the large screen TV while enjoying a hardy snack or sipping on a refreshing beverage. Located directly next to the member's lounge is the Lakeside Grill. Open to the public, the atmosphere is similar to the member's only lounge, as it is also air conditioned, has a large screen TV with Closed Captioning, a bar and shares the same eclectic menu. Both lounges offer high tables that are easily accessed by wheelchairs as well as sizeable patios that overlook the beautiful scenery. There is a large banquet room that is available for rent for special occasions that holds up to 200 guests. It is wheelchair friendly for the most part, although the front doors are not power operated and offer some resistance.
Mayfair Lakes offers wheelchair accessible washrooms with accessories as well as fully accessible changing rooms for Men and Ladies. The change rooms are equipped with shower benches and detachable showerheads. The accessible washrooms are equipped with raised toilets and grab bars inside roomy stalls, tilted mirrors, roll-under sinks with levered handles, and easy push button locks on doors.
Mayfair Lakes Golf and Country Club is a first rate location for persons looking to either have a game of golf or enjoy a delicious meal or refreshing beverage with a magnificent view. Disabled golfers are welcome to test their abilities on this lavish course that offers the towering Coast Mountains to the north, the Pacific Ocean breezes from the west and shimmering stretches of water that add both beauty and excitement to your game. Designed by Les Furber, Mayfair Lakes is known for fast, well-protected greens, lush fairways and distinctive water. Its inspired layout offers a unique challenge on every hole. Management and staff are committed to accommodating all guests. For more information about Mayfair Lakes Golf and Country Club either call (604) 276-0505 or visit their website.