Minoru Place Activity Centre
7660 Minoru Gate, Richmond, BC V6Y 1R9
Phone 604 238 8450
Fax 604 718 8462
At a glance...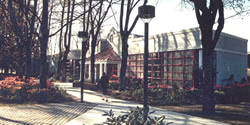 Accessible Parking

Various spots within close proximity to front entrance

Power Entry Doors

On East and West sides of building

Accessible Washrooms

Spacious individual stalls
Raised Toilet Seats with Grab Bars
Barrier Free Accessories

Barrier Free Activity Rooms

TV Room, Games Room, Gymnasium, Exercise Room, Woodworking Room

Closed Caption TV
Accessible Dining Area

Raised Tables
Wide Serving Isles

Barrier Free, Smooth Pathways
Our take...
Minoru Place Activity Centre is conveniently located behind Richmond Centre mall on Minoru Gate. It is a great place for senior citizens to meet and socialize with one another. Multiple handicap parking spots are found within close proximity to the west entrance, which has power entry doors. There is also an east entrance with automatic sliding doors.
Set in peaceful Minoru Park, there are a number of different activity rooms within this extremely accessible building that provide a stunning view of the shade blanketed park and its sprawling trees. A comfortable lounge furnished with couches, a piano, and a big screen TV with Closed Captioning is among the most popular rooms inside. For active visitors, there is a spacious games room with a first-rate billiards table and a dartboard. For the technically inclined or those looking to touch up on their computer skills, there is a computer room with the internet. A cozy cafeteria feeds the many people who visit the centre on a regular basis. There is an open room for exercise programs as well as a full gymnasium. For those who enjoy woodwork, there is a shop where visitors are free to create all sorts of crafts – big or small. There are two fully accessible washrooms; both come equipped with raised toilet seats and grab bars, roll-under sinks with levered handles, lowered soap and towel dispensers, and easy lock doors.
The purpose of the Minoru Place Activity Centre is to enhance the quality of life for Senior Citizens in Richmond through the provision of on-going recreation opportunities and services. It is an extremely friendly building and environment that is remarkably barrier free. To learn more about the Minoru Place Activity Centre or for program, tour, or transportation information call (604) 718-8450 or visit www.city.richmond.bc.ca and go to 55+/seniors link under Parks & Recreation.