Watermania
14300 Entertainment Blvd., Richmond, BC V6W 1K3
Phone 604 448 5353
Fax 604 448 5354
Public Swim Info: 604 276 4300
At a glance...
Accessible Parking

Spots located all over RiverPort
4 Spots located directly in front of main entrance

Power Operated Door

Located at Front Entrance

Braille & Tactile Signage

Washrooms, Changing Rooms

Gradual Ramps

Hand Railings
Platform areas

Lobby

Lowered front desk
Strong Colour Contrast Between Walls and Flooring

Accessible Change Rooms

Individual Changing Stalls
Shower Bench, Detachable Showerhead
Raised Toilet with Grab Bars
Barrier Free Accessories
23" Changing Bench

Accessible Washrooms

Spacious Stalls
Raised Toilet Seats with Grab Bars
Barrier Free Accessories

Pool & Spas

Pool has wheelchair lift
Pool has roll-in ramp in kid's area
Chairs available
Jacuzzi has lift

Accessible Dining Area

Some tables have designated wheelchair seating
Our take...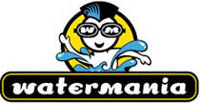 Located in the exciting and enormously accessible Riverport quarter of Richmond, Watermania is the essence of barrier free design. The facility has tons to offer people of all ages and is remarkably accessible. Parking is found within close proximity to the front entrance, and smooth sidewalks and gradual ramps lead from one of eight handicap parking spots to power entry doors. Upon entry, the lobby is a spacious room with a smooth wheeling surface and strong colour contrast between walls and floors. Signage is printed in relatively large lettering with strong colour contrast. The reception desk has a lowered section for wheelchair access.
Before entering the pool, guests will pass through either Men's or Ladies change rooms. Both have roll in showers with shower benches and automatic water control, as well as handicap washrooms with wheelchair accessible accessories and toilets – mirrors and soap dispensers are a little high. Changing benches are wheelchair height and quite wide, allowing for easy transfers and room to dress. A Family change room offers rooms specifically designed to accommodate physically disabled persons. There is one clearly marked wheelchair accessible individual changing room, although room 6 is equally designed. Both are equipped with wide changing benches, a raised toilet with grab bars, a shower bench with detachable showerhead, and a roll under sink with lever control and tilted mirrors and lowered soap dispensers. Watermania provides wheelchairs to roll from the change rooms to the pool area. The pool has a roll in ramp located in the children's area. There is also a lift that allows entry into the larger section of the pool. A lift also provides entry into the Jacuzzi. The facility also offers a steam room, sauna, concession, swim and fitness store, and a multipurpose room that is open for fitness classes, birthday parties, meetings and rentals. All are capable of accommodating persons in chairs.
Watermania is the most wheelchair accessible swimming facility I have ever seen. It has something to offer everyone, regardless or age or mobility challenges. The whole Riverport area is designed to accommodate persons with disabilities, and Watermania does not stray from this quality. It offers aerobics, aquasize, and other programs. If you would like to learn more about Watermania or its programs call (604) 448-5353 or visit www.richmond.ca and look for Watermania under the Parks & Recreation link. For public swim information call (604) 276-4300. Its accessibility exceeds societal standards and is a perfect representation of universal design.